From the Financial Times  January 6, 2012 5:04 pm
Where do babies come from?
When you are 44 years old, single and looking to adopt, it just might be Siberia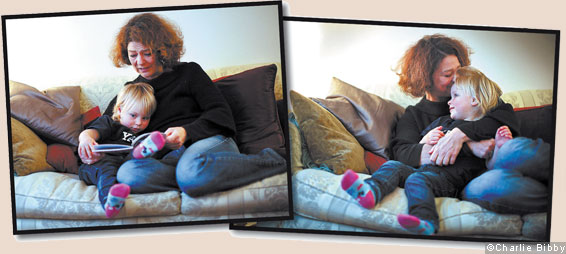 It was April 2007 and I was at a stage in my life when I could choose – and afford – to do almost anything I wanted. I had just been trekking in India, Nepal, Bhutan and Tibet with friends. I was turning 44. I owned a house in Battersea in south London, had a good social life and a job as investment correspondent for the Financial Times that I loved. But as I trekked through some of the most remote and beautiful parts of the Himalayas, I was dogged by the refrain from a Peggy Lee song: "Is that all there is?" Perhaps, I thought, it might be time to focus my life on someone other than myself.
I was slow in coming to the realisation I wanted children. Most of my friends had done it years before, in their early thirties, at an age when I thought it peculiarly irrational to exchange personal freedom for the 24-hour responsibility of looking after a small child. But as I trekked I realised I wanted a family and time was running out. A visit to a children's home in Nepal crystallised my decision, and in May I returned to London determined to adopt.
I knew adopting a child would not be quick or easy. Whether I adopted from Britain or overseas, I would have to submit to years of surveillance by my local authority, a process which Tim Loughton, minister for children and families, has described as "like the Spanish Inquisition ... painfully slow, repetitive and ineffective".
For centuries British children have been fostered out to family or adopted informally. But it was not until 1926, in the wake of the first world war and the flu epidemic, that adoption was made legal in the UK, a long time after having been recognised in other parts of Europe. And in the past 50 years, contraception, the legalisation of abortion, greater acceptance of single parents, and better welfare benefits have all resulted in fewer babies available for adoption, even as the regulations governing it have increased.
But last year the government appointed Martin Narey, a former head of Barnardo's children's charity, to advise on how to speed up the process. Helping to launch the campaign, Narey told BBC Radio 4 how "some remarkable potential adopters are so frustrated when [the process] meanders on for years not months, that they go to extraordinary lengths to adopt children from China, Nicaragua and Guatemala". (Of the 3,050 British children adopted in the year ending March 2011, just 60 were babies aged under one, who are much in demand. In roughly the same period about 174 overseas children, some 50 of them from Russia, were adopted into the UK.)
I contacted Wandsworth Council, the local government authority for Battersea, in June 2007 and, within weeks of my return from India, the council's then head of adoption visited me at home. We made a half-hearted attempt to talk about domestic adoption but I already knew that any child I might be allowed to adopt in the UK would probably be well out of toddlerhood with a history of problems needing more skilled care than I was confident I could provide while holding down a job.
The conversation swiftly turned to adopting from overseas and the few countries that would still allow a 44-year-old single woman of my ethnicity to adopt a child under two. That really left only Russia.
. . .
From Moses to Madonna and the Jolie-Pitts, inter-country adoption is not a new phenomenon, nor an uncontroversial one. Examples from the last century, such as the thousands of Korean children adopted after the 1950s and the Romanian children adopted in the 1990s, have usually involved transferring children from a poor or crisis-hit nation to a richer one. As such they have been widely criticised for neo-colonialism or cultural insensitivity. In recent years, concerned both by this and accusations of corruption, child trafficking and laundering, Guatemala, Cambodia and Nepal have closed their doors to all but a few inter-country adopters.
Though China and Russia once sent more children abroad than any other country, China has for the past five years been restricting international adoptions, rejecting applications from the old, single and fat. Adoptions from Russia have also fallen: in 2004 about 9,500 – close to 1 per cent (0.8 per cent) of all Russian children born that year – were adopted by foreigners, according to Dr Peter Selman, a visiting fellow at Newcastle University and a specialist in international adoption. By 2010 just 3,387 Russian children were adopted by overseas parents, a decline due not just to economic pressures but also to increasing regulatory demands on would-be adopters.
. . .
By the end of 2007 as my investigations into adoption continued, the FT was also recording some of the most extraordinary financial news of recent years. With the collapse of Northern Rock, there had been the first run on a British bank in more than a century. And the banking crisis was taking hold.
As well as attending day courses run by the Intercountry Adoption Centre, I accustomed myself to weekdays writing about the worsening financial crisis and Saturday morning visits from the social worker appointed to work with me on my "home study", during which we discussed how I would cope with a small child. She watched over me while I played with my five-year-old goddaughter and then her one-year-old sister. She visited my family and spoke to my friends and filled out forms on how safely I stowed my knives and where I put the bleach. Her job seemed to be to ensure I had the means and moral fibre to take on a child without dumping it on the state when it got rough.
By February 2009, I was deemed ready to go "to panel", that is, to appear before a panel of social workers, adoption experts, medical professionals and councillors to ask them to approve me as an adopter. And so, in a large shabby 1930s building in Wandsworth. I sat with my social worker at one end of a long table. At the other end were the adoption experts who quizzed me on why I wanted to adopt, why Russia, how much I drank and whether I had ever spent a whole day and night in sole charge of a child. They then sent me out of the room to wait in a long, curving corridor of massive mahogany doors that made me think of Alice in Wonderland. Ten minutes later I was told informally that I had been approved.
After being passed by the panel, I approached Taf, an Israeli adoption agency with a long history of successful adoptions from across Russia that I had come across in my researches, to help me find a child. Though Federation authorities categorised me as an independent adopter, I was allowed agency help and Taf had been highly recommended by previous adopters. It also quoted a charge for its services of €20,000, rather less than other agencies ($30,000 or more seemed pretty standard).
For a year I heard nothing. Fortunately, I had the banking crisis to keep me occupied. Then, suddenly, in January 2010, while I was skiing with friends in Val d'Isère, I received a call on my mobile from Taf's representative in London. She told me a suitable child had been found – a fair-haired and blue-eyed girl called Ekaterina. She had been born in March 2009, two months premature, in a hospital in Siberia.
With its myriad links to the region, Taf could also confirm that the girl fulfilled two vital conditions: she had no family who wanted to take her, and her mother had written a poignantly short but legally binding letter saying she was unable to care for the child and was giving up her parental rights. Simultaneously frightened, elated and shocked, I told my parents and those friends who knew about my decision to adopt, while I tried to assimilate the little information Taf had given me.
Back in London, I scrambled to pull together the paperwork – documents proving who I was, my financial status, a translated version of the home study, all verified by the social worker, notarised and apostilled by the Home Office – to register with the Russian court. In April 2010 I travelled to Siberia for the first time, my destination a baby home about four hours east of Moscow and directly north of Mongolia.
Taf had told me that I would be travelling with a couple who had also been matched with a baby in the same home and that we would be met at the airport by a lawyer they had found and a minibus. It was minus 10 degrees outside and the snow was more than 4ft high as we were driven at breakneck speed through a landscape smudged by sleet and punctuated by Stalinist monuments. Smoke belched from mineshafts, the spring thaw beginning to reveal the carcases of animals and machinery that had sunk into the black Siberian mud during a brutal winter.
At the baby home, a corrugated iron box painted an incongruously cheerful yellow with a small concrete playground surrounded by tower blocks, we were met by the director, who told us that none of the children had been outside since October. During the long winter, she continued, the children are given vitamin boosters and sunbed sessions to prevent rickets.
Inside the home, a mosaic brightened the staircase, pictures of adopted children lined the freshly painted turquoise walls and the place rang with the sound of dance and music classes.
In the director's office, presided over by a religious icon and pictures of Vladimir Putin and Dmitry Medvedev but with little in the way of ceremony, I was introduced to Ekaterina. A small 13-month-old girl, wearing a yellow chicken suit, she had no hair and a distressing way of falling forwards on to her head to manoeuvre herself – the legacy of spending too much time in her cot, explained the Ukrainian paediatrician I had, at Taf's suggestion, brought for an independent opinion.
The director of the baby home had records of every illness Ekaterina had had since birth, the date when her first tooth appeared, but nothing of her family. She could tell me that Katya's mother was 23, dark-haired, grey-eyed and unwell, but that was all. The Russian system draws a distinct line between child and birth parent once adoption has been completed. In the UK an adopted child is deemed to have a right to learn about its birth parents. In Russia the child has no such right.
Katya and I stared at each other. She was recognisable from a picture I had seen but I was looking for signs of foetal alcohol syndrome, a condition that irreparably damages children's brains and is prevalent in the Federation's orphanages. Then Katya smiled and my heart stopped.
For an hour or so we played in a vast playroom with bouncing balls, giant bears and climbing frames that was so pristine it was hard to imagine it had been used by many children. To my relief, the paediatrician declared Ekaterina "Norrrmalll, absolllutely healthy. I tell you she is absolllutteelllly purrfect." We returned to the hotel, celebrating with vodka, soup, pickled mushrooms and preserved root vegetables until the early hours. I spent the next three days visiting the home to play with Katya, after which the director, mesmerising in a dress of black and white swirls and hair piled high into peroxide bubbles, called me into her office to say I would be back in six weeks to collect the baby after a final court hearing.
It took another four months before I was able to return to Siberia with a new dossier of documents. I also carried several thousands of euros in envelopes to be handed to people along the way. By mid-August, summer had transformed the region into a rolling green and gold landscape of wheat and potatoes. Sunflowers and dill weed spilled over blue and green picket fences.
I remember little of the long wait outside the courtroom or the hearing itself. There were five middle-aged women in a room barely big enough to cram three; the click of the judge's blue snakeskin shoes; court officials dressed like usherettes in silky blue blouses and stilettos. Even the cleaner wore high heels.
My lawyer, acting as interpreter, relayed the judge's questions. Did I understand that I was taking on a child who might have difficulties? How, she asked, would I cope physically and financially on my own? "Since you are not young, what will you deny her when you are tired?" she asked. I told her I was probably fitter now than I had been in my twenties and that I was certainly more patient.
I was told to sit outside while the judge deliberated. Three minutes later I was told my petition had been approved and I could collect my new daughter in 10 days.
Ten days later, back in Siberia after having spent another few thousand pounds on flights and hotel bills, I "took possession" of Katya. Two days later we flew to Moscow, where for the next 10 days we fought with the UK Border Agency to extract a visa for Katya so that we could fly home to London. We finally did so on September 2 2010.
Since then Katya and I have lived together in Battersea and I have returned to my job in the financial services team after adoption leave. But on November 21 2011 I booked the day off work and Ekaterina and I made our way to the family division of the High Court, a dingy building in High Holborn. The hearing took just five minutes and we celebrated with a rocky road cake at Starbucks. Katya's adoption has been made legal in the UK. In one sense, that marked the end of the process. Nursery rhymes echo in my ear at night, not Peggy Lee. But in another it marked the beginning. I send regular reports of Katya's progress, with photos, back to the Russian court. Wandsworth continues to monitor us. And then there is Katty, a happy, wilful two-and-a-half-year-old who already asks, with a good south London accent, "Why?"
....................................................
From Russia with adoption papers
The biggest one-off cost when adopting from Russia is usually the fee paid to an adoption agency. I paid €20,000 in 2007 to Taf. Other US and Russian agents I approached quoted more.
Next came the home study, payable to the local council: about £4,500 in my case.
Numerous statements from accountant and lawyer cost about £500. Each had to be translated, notarised and apostilled by the Home Office and then couriered to Siberia. Total: about £5,000.
There were medical exams in Britain and Russia, including $800 in cash to a Moscow hospital where eight doctors probed my mental and physical fitness.
Costs of blood tests and X-rays to prove to the Russian court that I didn't carry diseases such as TB, hepatitis or HIV came to approximately £500. Some regions demand certificates from cancer specialists and psychiatrists, too.
Three return flights from London to Siberia via Moscow cost £3,200. Travel within Russia and hotels cost another £1,000 and it cost a further £2,000 to stay for 10 days in Moscow.
Katya's visa from the British Border Agency came to £850. Most valuable expense was $1,200 for Dr Anna Gorban (dream_dim@ukr.net), a Kiev-based paediatrician.
Intercountry Adoption Centre, High Barnet, London (tel: +44 (0)208 447 4753; www.icacentre.org.uk), is a registered charity and voluntary adoption agency, and the only specialist centre for inter-country adoption in the UK. It runs courses on what prospective adopters should expect and works with families on behalf of some local councils.
Taf (www.taf.co.il) is an Israeli voluntary association for international adoption, operating in 24 regions of the Russian Federation, under licence from the Federation's ministry of education and science.
"The Global Decline of Intercountry Adoption: What Lies Ahead?" by Peter Selman, chair of the Network for Inter-country Adoption and a trustee of the British Association for Adoption and Fostering (p.f.selman@ncl.ac.uk), will be published this year in Social Policy and Society, Vol 11.
International Adoption Guide (www.internationaladoptionguide.co.uk).
Copyright The Financial Times Limited 2012