China Daily Updated: 2013-03-14 07:04
---
Need is to make orphans' life secure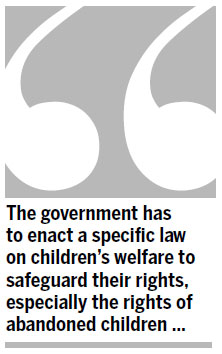 Minister of Civil Affairs Li Liguo has said at the National People's Congress annual session that the current regulations encourage families to adopt children. And NPC deputy Jia Weiping has proposed that the Adoption Law be amended to lower the threshold for families to adopt orphans and abandoned physically challenged children.
The adoption of orphans and physically challenged children has been a subject of public debate ever since a fire in an unregistered orphanage, run by a woman named Yuan Lihai in Lankao county of Henan province in January, claimed seven lives.
By January, China had about 615,000 orphans and abandoned children but only 109,000 of them were in government welfare institutions, according to the Ministry of Civil Affairs.
The terms of the Adoption Law are strict. For example, people seeking to adopt a child should be childless, have the financial capability of taking care of its educational, medical and other needs and should be more than 30 years old. Such terms have made adoption difficult despite the rising demand among people to do so. Only 24,635 adoptions were registered across the country last year.
On one hand, individuals tend to adopt healthy infants, but a majority of children in government welfare institutions now are sick or disabled. On the other hand, many people and NGOs eager to provide shelter and care to abandoned disabled children cannot qualify as legal guardians according to the Adoption Law.
It's true that about 100,000 orphans have been adopted by foreign families by July 2012. But adoption by foreigners, too, has declined since the government tightened the rules for adoption of orphans in 2005. Also, given the difficulties children have in adapting to foreign lands and people, the government accords priority to adoption by Chinese couples. As a result, the number of registered foreign adoptions dropped to 3,311 in 2012, accounting for only 13 percent of the total that year, and many among those children were disabled.
The authorities should realize that NGOs, individuals and families that adopt sick and physically challenged orphans do the government a favor. To encourage individuals to adopt children and help sick and physically challenged orphans to return to family environment, the authorities should ease the adoption procedure and provide necessary financial support to NGOs, individuals and families.
Many abandoned children don't get the orphan allowance, stipulated in a 2010 government document, because only those who prove that their parents are dead are entitled to it. So the government should take steps to extend the allowance to all abandoned children.
If the legal procedures and economic burden for adoption are eased, more individuals and NGOs will come forward to adopt sick and disabled children. But the authorities should relax the terms for adoption with utmost caution. Since the adoption of healthy children is no longer a problem, the challenge now is to make life better for sick and disabled orphans. Also, a lax policy does not necessarily mean that an increasing number of physically challenged children will find proper homes. The authorities, therefore, have to strike the right balance in the adoption policy to ensure such children are not made to suffer even after their adoption.
Many believe that traditional beliefs alone prevent individuals from adopting sick or disabled children. But that is not entirely true. Orphans who live in government homes can receive an allowance every month and get free medical treatment. But once a person adopts a child, he/she has to bear all the expenses for its well-being, from medical treatment to food, clothing and education. So the financial burden that comes with adopting a sick or physically challenged child also keeps many people at bay.
Hence, the government has to enact a specific law on children's welfare to safeguard their rights, especially the rights of abandoned children, and elucidate NGOs' rights and duties in providing aid to orphans. Moreover, government expenditure on orphan welfare programs should be included in the central fiscal budget to guarantee the flow of more funds to provide orphans, and abandoned sick and physically challenged children a healthy growth and development environment.
The author is a reporter with China Daily. E-mail: wangyiqing@chinadaily.com.cn
(China Daily 03/14/2013 page10)