---
Govt to ease norms for speedy adoption
Aditi Tandon
Tribune News Service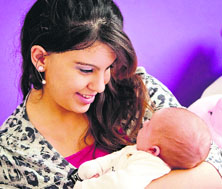 New Delhi, July 3
Foreigners and NRIs wanting to adopt Indian children are in for good days with the government set to ease adoption norms and scrapping processes that were delaying adoptions to the detriment of children in waiting.
In a major policy shift, the Ministry of Women and Child Development has mooted a new adoption law which will treat NRI parents as Indians, making them eligible for in-country adoptions.
The government has evidence of several NRIs opting for Chinese, even Latin American children because they felt handicapped by India's adoption laws.
The law is also being eased for prospective foreigner adoptive parents with the government deciding to scrap the existing rule under which against four domestic adoptions, there can be one inter-country adoption.
Talking to The Tribune today, WCD Minister Maneka Gandhi said, "We had this strange 80:20 ratio for in country and inter-country adoption. This meant that a child cannot be given away in adoption to foreigners until the 80 pc domestic adoptions were accomplished. That hardly ever happened and a child kept waiting to get a home. We have decided to scrap this ratio. Now foreigners, NRIs and Indians can all equally go for adoption for the same poll of children."
The proposed changes are part of the new Juvenile Justice Act the Government has drafted and is in the process of fine tuning before consulting the Law Ministry. Hallmark of the proposed law is that adoptions must end in four months against years they take today. The proposal is to allow principal magistrates of the Juvenile Justice Boards (instead of just district judges) to adjudicate adoption cases. "A judge must decide in one hearing. Delay would entail a long explanation," said Maneka who has written letters to all judges seeking priority hearing for adoption cases.
At present, 10,000 Indian couples and 600 foreign, NRI parents are waiting for adoption whereas children available are just about 2,500. "We are now also linking up around 4,000 children's homes to our Specialised Adoption Agencies in states so that children keep coming," said Maneka.
Crucially, the proposed new law mandates declaration of a child legally free for adoption within a month as against two months today for surrendered children and two to four months for abandoned children depending on their age. "Legally free status must come in a month and home checks on prospective parents must happen soon as people register for adoption. At present, a home check happens when the child becomes legally free for adoption which is taking years," said Maneka.
She has already got the website of Central Adoption Resource Agency (CARA), apex adoption related body in India, updated with photos and profiles of all available children uploaded for public knowledge. "The website has been updated after 10 years," the minister said.
In a major policy shift, the Ministry of Women and Child Development has mooted a new adoption law which will treat NRI parents as Indians making them eligible for in-country adoptions